Tool Kits
Blueprints for site managers
Many managers of nature sites are having to cope with the impacts of climate change on a day-to-day basis. Other man-induced changes may also have major impacts. The Blueprint for a Best Practice Toolkit is a selective checklist of items which should be useful to a site manager, and which can be adapted to any site. It applies particularly to coasts, estuaries, rivers and peatlands.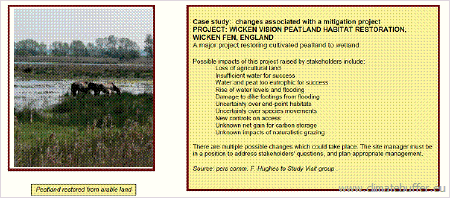 There are seven main categories of tools in the Blueprint, including modelling and scientific data, plans, monitoring techniques, access to expertise, communication and knowledge of the best case study sites. The manager of a site undergoing major changes has a challenging task, acting as the interface between complex science, fraught with uncertainty, and demanding stakeholders.

The key needs are better links between science and practice, better interpretation of the necessary data for site staff, and better communication tools and strategies so that stakeholders receive the answers they need. On-site knowledge exchange is the single most effective item in the toolkit – so site managers should be enabled to visit case study sites – locally, regionally and across country boundaries.
Further Informations and downloads
The project was funded from a Leonardo da Vinci grant.
The project started in 2010 and was finished in 2012.