Lessons Learnt
Wherever possible, nature should take its course….

But… trade-offs will be needed, eg farmland birds for saltmarsh birds at Wallasea; saltmarsh for freshwater marsh on Brownsea. Large numbers of visitors can be accommodated without compromising nature, even on small islands, like Brownsea, if managed carefully. It was very impressive how RSPB had engaged the local community and stakeholders at Wallasea years ahead of starting the habitat transformation project. The English participants remarked how a single climate change project in the Netherlands may have funding in excess of what other countries spend in a whole year.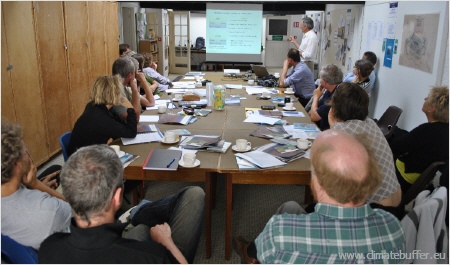 Discussing the lessons to learn
(Photo: Ralf Schulte/NABU)
Participants' Reactions
"tba" (N.N.)
The project was funded from a Leonardo da Vinci grant.