Brownsea Island
National Trust and 'Shifting Shores'
The National Trust protects 1,138km of coastline in England, Wales and Northern Ireland. Much of this coastal land is threatened with erosion and flooding due to sea level rise and climate change. 'Shifting Shores' outlines the Trust's policy and approach for the coast.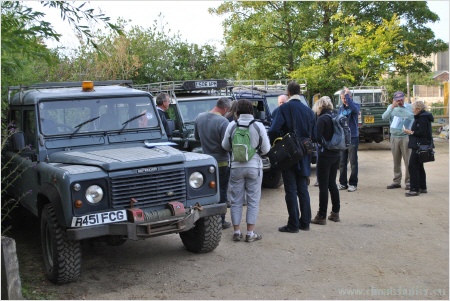 The Brownsea Land Rover Expedition Team
(Photo: Ralf Schulte, NABU)
Brownsea Island Shoreline Restoration Project
Brownsea Island has many designations, and, being very low-lying, is at high risk from flooding and inundation. It provides excellent examples of the tension between trying to conserve sites of high nature conservation importance, and deciding when to allow change.

As a part of Poole Harbour, Brownsea is a 300 ha SPA, Ramsar Site and within the Dorset Heaths SAC. Habitats include fresh water ponds, heathland, pine woods and a diverse shore line with a brackish lagoon and cliffs (sandstone, clay).Most of the island is managed for its nature conservation value by the National Trust and Dorset Wildlife Trust (DWT). Both organisations have programmes for volunteer work parties, community groups and others to carry out conservation work. The island has 120,000 visitors a year. There is a shop and café. Management not directly related to climate change includes eradication of Rhododendron ponticum, woodland thinning, control of bracken and conservation of a rare island red squirrel population.
A 100 hectare Nature Reserve on Brownsea island is leased to the Dorset Wildlife Trust. Here the non-tidal lagoon is situated, separated from the sea by a beach sand barrier, with controlled water levels. Hides were built to observe birds breeding, which are nesting on small artificial islands, fenced against predators such as the great black backed gull.

Brownsea's lagoon, and the cultural landscape around the shoreline, are threatened by sea level rise, which could lead to the loss of habitat and features. But in other places changes could lead to new habitat creation.

The National Trust cooperates with Natural England, the Dorset Coast Forum and the Poole Harbour Commissioners.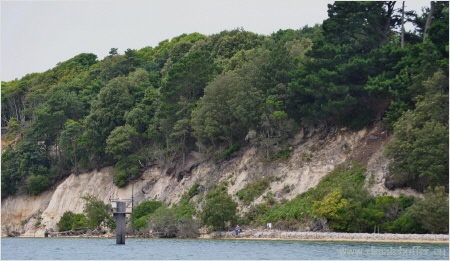 Shoreline of Brownsea Island
(Photo: Ralf Schulte, NABU)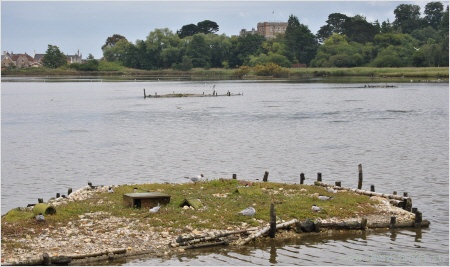 Bird Sanctuary of the Dorset Wildlife Trust
(Photo: Ralf Schulte, NABU)
Issues being addressed
On Brownsea, the National Trust's long-term strategy is natural adaptation to higher sea levels without defences. Old defences are not being replaced around much of the coast, and are being actively removed in places. However, the freshwater lagoon is still being maintained. There is a tension between the long term approach (allowing change) and the short term nature management goals here, which is still being negotiated.
Further informations and downloads
The project was funded from a Leonardo da Vinci grant.