Bay of Veys
General Description
The Bay of Veys is a territory at the intersection of multiple challenges, at the eastern part of Cotentin near the Calvados. The estuary (area with a high risk of marine submersion) risks to lose land to the sea, with the question of the future of its biodiversity. Located in the Manche department, the Bay of Veys is an area that was reclaimed from the mid-19th century. Between 1856 and 1972, hundreds of acres (200 to 2300 ha) were reclaimed from the bay and protected by about 18 km of dykes. The phenomenon of polderisation/land reclamation has been accompanied by a significant loss of tidal marsh surfaces.

The bay has a set of varied landscapes: farmland, crops, wooded swamps drained type, type of marsh drained polder polders cultivated or not, dunes, salt marshes, beach.

This is an ideal reception area for wildlife (haven seal) and migratory birds (oystercatcher, ringed plover, Dunlin, Curlew). Issues identified on this site are related to the presence of dikes protecting the polders that become for some a source of ecological discontinuity between the intertidal and terrestrial habitats.

The Conservatoire du littoral owns six polders in the Bay of Veys for a total area of 257 ha.

Due to the natural history of the bay and rising sea level, the issues relate to the natural ecological functioning of the site (migratory birds), particularly on restoring the functionality of the estuarine ecosystem and its geomorphological evolution. Indeed, a rise in sea level would be accompanied by a regression of current salt marsh.

The stakes in terms of management practices focus on the sustainability of major economic activities of the Bay: shellfish, hunting (including DPM), farm management and commercial fishing (including shell).

The many studies done on this site, including the Branch project, provided a large number of historical data (terrestrial habitats, fish, benthos, birds, topography). These data will be supplemented by a first follow-up of the ecosystem and a sociological approach and will develop tools for advocacy and monitoring tailored.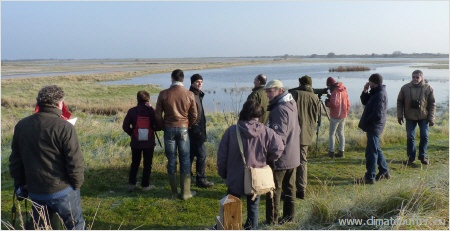 The Bay of Veys
(Photo: Celine Damery, CdL)
The project was funded from a Leonardo da Vinci grant.