The Sites that were visited
The Étang de Vaccarès is a a salt water lagoon (étang), in the wetlands of the Camargue. It is an important place for rest and food for migratory birds, and it also has a population of the greater flamingo. Because of its importance for wild birds, the Étang de Vaccarès with its the surrounding wetlands has been protected as a nature reserve since 1927, and in 1972 it was incorporated into the Parc Régional de Camargue.

The Fleche de la Gracieuce .....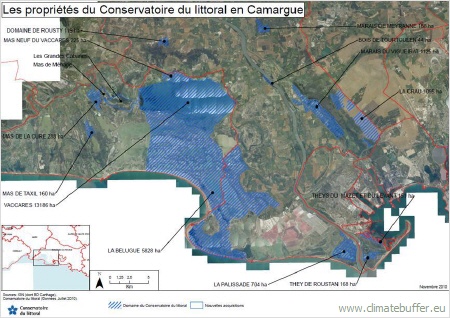 The Estates owned by CdL
(Graphic: Conservatoire du Littoral)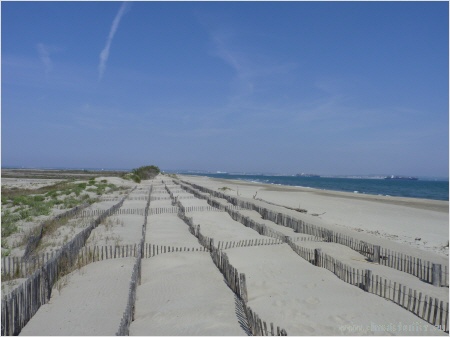 Fences to break the wind
(Photo: Celine Damery/CdL)
The Tour du Valat research center is a private research organization and was founded more than 50 years ago by Luc Hoffmann. Its research activities are focusing on the conservation of Mediterranean wetlands and help to get a better understanding of wetlands for better management. The Tour du Valat mission is to halt the loss and the degradation of Mediterranean wetlands and of their natural resources, and to restore them. The center is located in the heart of the Camargue.

The Marais du Vigueirat is a vast protected area (1,000-hectare) and is situated in the Eastern Camargue, between the Grand Rhône and the steppe plain of Crau. The site is a rich mosaic of natural environments representative of the Camargue and the wetlands, where more than 2000 plant and animal species have been counted, including over 280 bird species amounting to more than 60% of French avifauna (e.g. herons, pink flamingos, storks, European bee-eaters, birds of prey, wading birds, ducks). The site is home to 4 bull and Camargue horse farms, with the animals grazing in the park: more than 350 animals serving as "natural lawn mowers" on this protected space. Besides the vast wetlands, ponds and marshes, and also the salty meadows and the Sansouires, you will find in the Marais du Vigueirat the largest protected reed marsh of the Camargue, which stretches out over a surface area of 250 hectares.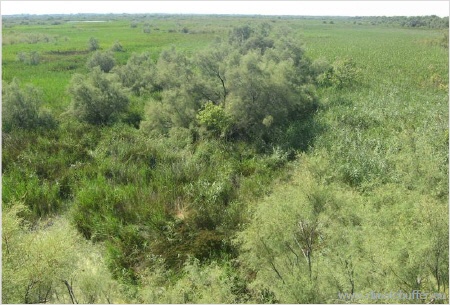 Marais du Vigueira
(Photo: Conservatoire du Littoral)
The project was funded from a Leonardo da Vinci grant.